Beyond Immunity: How Vitamin C Nourishes and Protects Your Skin
Stops premature aging of the skin, smoothes fine wrinkles.
Stops the pigmentation of the skin, lightens existing pigment spots.
Gives the skin a healthy glow, reduces dark circles under the eyes, evens out skin tone.
Reduces inflammation of the skin, smoothes scars after acne.
Slows down the process of photoaging of the skin, helps to recover from ultraviolet radiation.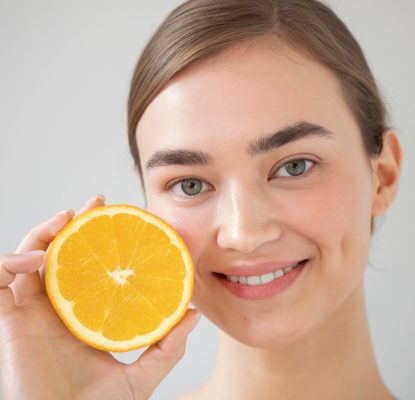 Vitamin C is known as one of the essential vitamins for immunity and well-being. However, due to its cleansing and youth-preserving properties, this vitamin is increasingly valued in cosmetics. A dermatologist answers frequently asked questions about the use of vitamin C and its benefits for the skin.
How do you know if your skin is deficient in vitamin C?
For the normal functioning of organs, a large amount of vitamin C is required, but, naturally, the human body does not receive and does not accumulate this vitamin.
Therefore, it is important to get enough of it through food or supplements. However, the skin absorbs vitamin C only when its main part has already reached the most important organs, so the skin of the face often suffers from a lack of this component.
According to a dermatologist, if the skin does not get enough vitamin C, it can look gray, dry, reddened, and wounds heal slowly. If you notice more wrinkles on your skin or wrinkles become more pronounced, this may be one of the signs of a lack of vitamin C. To prevent this from happening, it is important not only to saturate the skin with this vitamin from the inside, but also to include products with vitamin C in your daily skin care.
How does vitamin C affect the skin?
The dermatologist says that one of the main functions of vitamin C is to promote the synthesis of collagen and elastin. Collagen is responsible for the elasticity and firmness of the skin, so the more collagen, the smoother, tighter and younger looking skin.
Vitamin C also acts as an antioxidant, accelerates the healing of small skin lesions, reduces inflammation and helps reduce skin imperfections after acne.
According to the dermatologist, vitamin C is also highly valued for its ability to promote depigmentation. By reducing melanin synthesis in the skin, this vitamin can help reduce existing skin spots and prevent new spots from forming and even out uneven skin tone.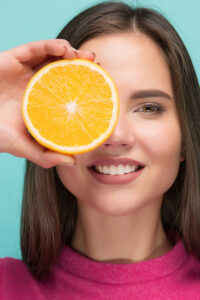 What kind of skin is vitamin C suitable for?
Vitamin C products as tonics, moisturizers, face masks, serums, sprays, etc., are suitable for all skin types: oily, problematic, dry, mature, normal and sensitive skin. However, people who are allergic to vitamin C should first be tested for sensitivity (apply a vitamin C product to a small area of ​​skin) and only continue using it if it does not cause an allergic reaction.
When to use: morning or evening?
Unlike products with retinol and acids, vitamin C for skin can be used both in the morning and in the evening. However, you need to pay attention to the concentration of vitamin C in the product.
Higher concentrations of vitamin C (> 10%) are recommended for use in the evening. In turn, lower concentrations can be used during the day – the skin will be protected from environmental pollution, UV rays.
Can these products be used all year round?
Products with vitamin C for the skin, according to a dermatologist, are safe and necessary all year round. And while the myth that skin can only be whitened in the fall lives on, vitamin C helps protect skin from sun damage, even during warmer months.
In addition, sunscreens are much more effective when a vitamin C product is applied to the skin in advance. Thus, both in summer and in the cold season, vitamin C helps protect the skin from UV rays, but skin protected from direct sunlight has less prone to pigmentation.
In conclusion, the dermatologist adds that it can be difficult to choose the most suitable vitamin C products, because their range is really wide. Therefore, you should first consult a specialist and listen to his recommendations. By talking to a professional.
Join Our Healthy Beauty Revolution
Access valuable resources for enhancing your beauty naturally and embracing self-care.